ERP and Sales Management
Sales procedures include all the activities from communicating clienteles to tracking of each customer order exact from order placement to dispatch for a client. Such annoying activities can be automated using an ERP and it can be easily managed. A module for sales management in ERP helps to achieve operations and document-based recording of entire sales transactions. ERP Sales management software provides you the power to update total sales and distribution functions as well as handles global business smoothly.
The sales module executes roles of order placements, scheduling, create new items, give quotes and estimates to clienteles, copy and modify existing items, and its shipping, etc. Also, the sales and distribution management takes the duty of creating sales and accomplish the distribution channel for making a profit.
Companies utilize ERP to estimate and plan their upcoming initiatives of how they wish their business to grow. The technology permits them to discover which parts should be upgraded, and how to get more progress in the future. ERP also diminishes the time taken for manual entries and it triggers the on-time delivery. In the background of rising market rivalry, industries focus more carefully on business leads and sales procedures.
Benefits of using ERP for Sales Management
Integrated Business Procedures
Strategic decision-making
Real-time information
Forecasting
Customer Management
Easy to Implement
Merging of Finance, HR, Sales, etc.
Effective Inventory Management
Cost Savings
Single Reporting System
How ERP helps in Sales and Distribution?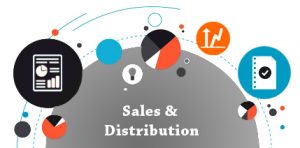 ERP automates the sales and distribution activities like making an appointment with clients, follow-ups and opponent assessment, etc. With an accurate sales management module, businesses can achieve their sales procedures, record the documents like agreements, invoices, and orders, manage their accounts, update the records, and more. So, you will get whole visibility on the order-to-cash procedures, recognize cross-sell or up-sell opportunities, expense controlling, and an improved customer-focused business plan.
The module permits you to have an active control in the sales department. You can simply generate every trading information like payment terms, offers and special shipping information that can all be kept in the contact registers as well. Growing productivity in the Sales & Distribution procedure enables and empowers the sales team to maintain its competitiveness. The sales management solution incorporates faultlessly with inventory, marketing, HR, finance, payroll and more.
The system assists your team to plan, schedule, observe, regulate, and arrange the contacts. It alerts about the openings and current activities all at a single place which ends up in improved performance and time management. This eliminates any bottlenecks during the sales activities before they raise an issue. The software system includes the records of complete products and services delivered to clients and keeps the history of all previous transactions connected with them. Therefore, this module is one of the fundamental modules of ERP and it is of extreme significance for the organizations since it works in combination with all procedures on the system.
The main intention of any sales and distribution business is to enhance productivity and profits. The joining of an invoice and a sales order provides you an insight into the sales practices. A proficient sales and marketing segment of an ERP software will aid the company to achieve these goals. It will help to be more responsive to your consumers thereby to make superior customer response time.