RealSoft ERP Software UAE
ERP software Dubai in simple words is a centralized database of information, triggers, action, and automation in companies to operate their businesses efficiently.
Coral Business Solutions tailor-makes the best ERP software in Dubai. RealSoft, being a VAT enabled ERP software, is a must-have return on investment software for companies struggling to improve their operations excellence, customer satisfaction, profit-orientation, and to get detailed business insights. RealSoft offers complete business management tools for managing Finance, Sales, Accounting, Taxation, Manufacturing Processes, Customer Relations, and much more efficiently. It is the best ERP Software in UAE & the Middle East and allows a central platform into which various departments in an organization share information. This information is intelligently compiled and used to forecast business trends which will be used by business owners to make quick and thoughtful decisions. This VAT enabled accounting software can also help you organize and streamline your business and its operational aspects, which facilitates strategic advancements in the revenue generated and improved productivity.
ERP Software Functionality
Enterprise resource planning
Customer relationship management
Social media integration
Government services
Mobile applications
Third-party integrations
Customer view portal
Business process management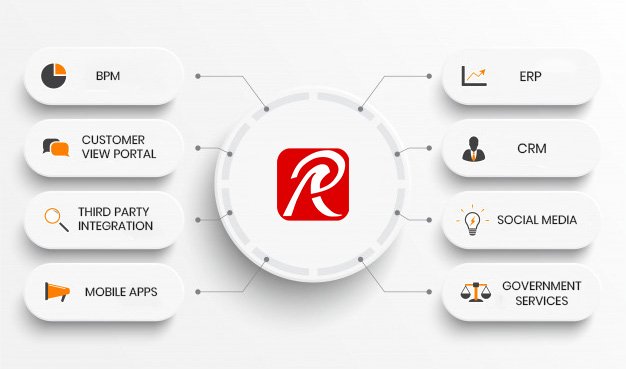 ERP Software Modules
Finance & Accounting
Procurement & Inventory
Sales
Job Costing
CRM (Customer Relationship Management)
WBS / Estimation
WMS / PDA
HR & Payroll
Production & Manufacturing
Fixed Asset Management
Facility Management
RealSoft ERP Features
Scalable Work-flow Management
Artificial Intelligence-based Business Administration
Feature-rich Dashboards with KPIs
Real-time Alerts, Triggers, and Reminders
Integration with External Applications and APIs
Online Authorization through emails or Mobile applications
Adaptable Business Process Designing capability
Document Management and user-based access privileges
Customizable and Programmable Interfaces
Easy Installation and Migration of data
Faster Deployment of business process
International Standards & Concepts
Customization Possibilities
RealSoft is one of the best ERP software in GCC having 4000+ successful product implementations.
Contact us today and get a quote
Frequently Asked Questions
Is RealSoft ERP Software Easy To Use?
Yes, our software is very easy to manage and you can access all modules quickly. We have created this software with an easy user interface for fast work done.
How much does ERP Software cost?
Our pricing is purely based on the system study, but it will be economical always when compare with others. Please give us an opportunity to visit your company and do a presentation. It will lead us to make an apt quote for you.
Which industries use Realsoft ERP Software?
Our software is widely used in many industries in GCC, India & Africa. We have 4000+ successful ERP implementations all over the world.
Is this software customizable?
Yes, Realsoft ERP software is highly customizable according to user requirements, by customizable ERP it means modifying modules to meet specific business or company requirements.