ERP Software & Its Benefits
Enterprise resource planning simply ERP is an integrated software system intended to incorporate the core functional areas of a company's business procedures into a combined system. With it, you can gather, store, handle, and execute data from multiple business divisions.
If you have a better sense of ERP and it's working, then it will definitely transform your business. To get a deeper thought about it here covers an outline of Enterprise resource planning.
An ERP module comprises basic software components that emphasis on crucial business areas like inventory, manufacturing, finance, accounting, trading, real estate and many more. The usage depends on which category your business belongs. If you have a real estate industry, you can employ ERP for Real Estate or if you are serving for manufacturing, then select an ERP for Manufacturing and so on. The software system collects data from all parts of the business and lets them available to other divisions where it can be reused efficiently.
Significance of ERP Implementation
Beyond defining the query of what is an ERP software, you should be aware of its significance as well as why you need it. The need for an ERP is exactly similar to the role of the brain in a human body. A business or an industry cannot work smoothly without a proper ERP system.
The actual goal of an ERP software is to escalate proficiency, update procedures and to stimulate a standard of integration in an association. Every department of a business has its own specific system. But with an ERP all of these systems can be opened through a single application with a single interface. This leads to constant communication among departments and the sharing of data with the rest of the organization. Such routine will drive reduced costs and boosted efficiency which can end up in better output.
Common ERP Systems
An ERP is a responsible software because an organization achieves and incorporates both internal and external means in its business through this system. ERPs create a combined set of data, united in one place and effortlessly reachable to all subdivisions. Once implemented completely by large-scale businesses, ERP is gradually being helpful to smaller companies in numerous trades globally. So, the price of an ERP software change from one industry to another depends on the requirements. The ultimate pricing relies on what is meant for each company's necessity which will make their business procedures easier.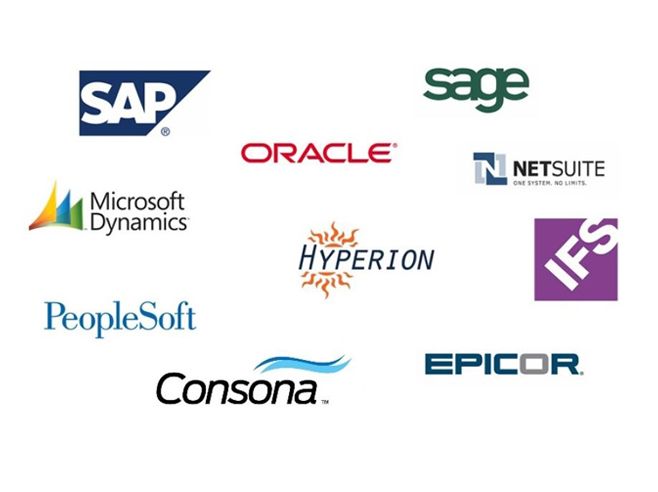 Here is a list of commonly used ERPs for your business:
Picking of ERP is a steady action because it has to be used longer. RealSoft ERP can achieve a choice of needs. The help can be demanded for accounting software, customer orders, Trading ERP, inventory and financial status, etc. Whatever it is; the ERP will complete its job perfectly.
One of the advantages of this ERP is its real-time info and the ability to screen whole business procedures through a single source.  So that, every client experience clear variations in streamlining procedures, lessening prices, constant interactions without any limits. The RealSoft ERP software could pay remarkably in expanding the project cycle by adding a whole part of the firm and allow data obtainable to everybody from the same place.
Deltek is frequently used by professional service companies. It is a project-focused solution that handles accounting and management of the project, resource and time management, client management and all in a single product. Deltek is extremely useful for architects and engineers in medium-scale and large-scale companies.
Deltek assists users to evaluate major business operations for driving decision-making easy. Its asset management module lets the business to handle entire asset development. Then, clients can work together and share data immediately. Deltek has an accounting module too, that provides income recognition, multi-company support, etc. Using this ERP, you will get a clear picture of the project and financial status.
It concentrates in generating and marketing business software products which are mostly database management systems. Oracle has implanted advanced technologies in all parts of its cloud, allowing organizations to restructure their businesses, procedures, and skills.
Made through cloud-based and social platforms, this ERP gets flexibility, customer-facing CRM and more for the business. With the arrival of its Autonomous Database, Oracle is yet again transforming the way of data handling.
It is crafted for small and medium scale organizations. Sage 300c assists in gaining perfection into every phase of your business without the rate or difficulty of old enterprise resource planning software. Whatever the requirements of your business, Sage will shorten density and make the revenues for your company.
So many companies all over the world have preferred this solution and taken benefit of a wide group of third-party solution providers. With this ERP, you can stay assured in opting the correct choice for managing the business forward.
Benefits of ERP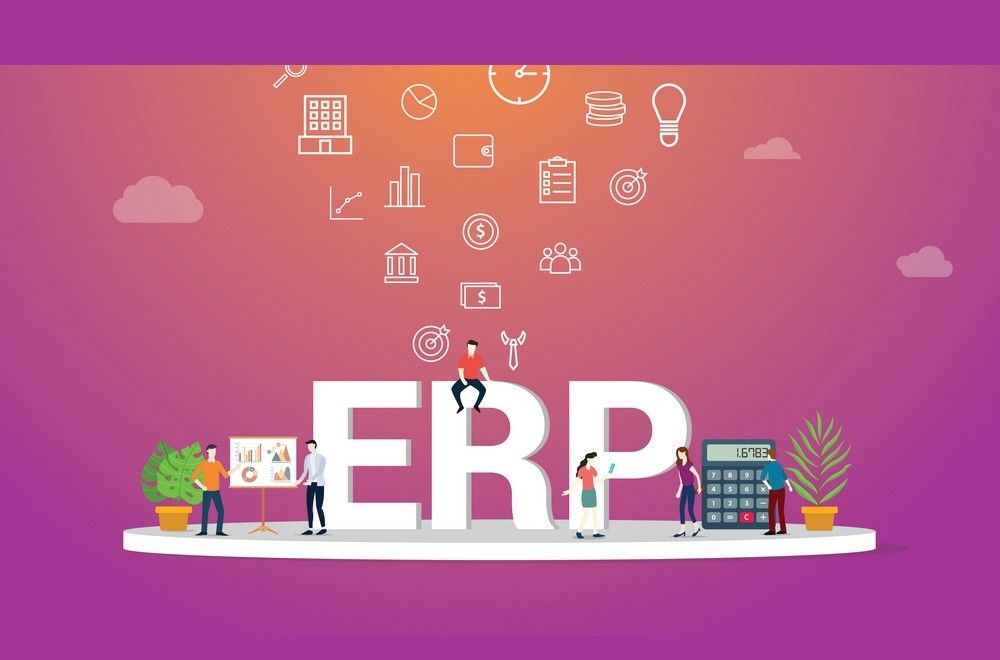 ERP software solutions have gradually gained the grip amid both big and small industries for its consolidated approach to the business procedures. There are countless advantages for an ERP in a business. Also, there are loads of areas where an ERP system might become truly helpful.
So, have a look at some core benefits of using an ERP:
If you need to tie all the business procedures across diverse sections into an integrated system, ERP is the best choice. Doing an integrated ERP execution helps reduce expenditures related to support, administration, organizational needs and more.
You can develop a synchronization as well as the productivity of your business. Meanwhile, an ERP involves numerous functional areas like Financial Accounting, Real Estate, Human Resources Management, etc. By joining these modules, you will save funds and augment your corporate flows.
ERPs permits businesses to enhance both internal and external resources to get client satisfaction. An appropriate ERP software solution is beneficial for many marketing tasks like lead generation, customer service, customer acquisition, etc. Sales and customer service people can mend relationships quickly with customers and can access the client's data and profiles.
Instantaneously, your company can establish a better connection with your customers through every phase of the procedure to buy your products. So, using an ERP would be a perfect option to give top-quality customer service.
An ERP system can remove the wasting of time and then progresses your company's success and throughput. Without such a software system, you and your staff can have a large time schedule or repetition in tasks that result in huge wastage of time. Consequently, it results in destructive effects on your outcome.
Enterprise planning software aids to effortlessly access information for making data-driven results quicker. ERP software makes the reporting process healthier and more customizable. With upgraded reporting abilities, your firm can reply to intricate data entities straight. It can likewise record the actual prices of activities inside an office. Users can then run their individual reports without depending on any assistance from the IT department.
Using an ERP, the data distribution across various databases can be diminished. Because all data is now kept in a single place. The stored data will be steady and updated.
Common Issues in ERP Implementation
Installing ERP software can be a difficulty when businesses don't formulate suitably or identify possible problems before they arise. But despite the fact ERP usage is extensive and the model for most organizations these days, there are still risks for all fresh execution as each company is diverse and comes with its own requirements and outlooks. Though the execution of ERP is not that simple, it can possibly make so many challenges reliant on the way it is accomplished. The implementation issues differ with loads of factors.
The following are the common issues occurring when implementing an ERP system:
Irrespective of the number of applications an organization executes, there will permanently be one base of data with an ERP system. The data made through the legacy system may not be well-matched with the new system. This calls for plenty of project planning fine before the real implementation to remove the struggle.
Without an ERP, organizations use time and energy drawing the separate data from various accounting sources and spreadsheets to determine the company's general monetary position. You should guarantee that you clean up your archives before you delivering the implementation work to the consultant. Because time can be saved by implementing a combined ERP system. This removes the dual entry of data and the duplication since it does the data searches in all sections.
Commitment from executives
ERP systems are intended to modify the way employees work in a company and it will make things stress-free and more unified between divisions. It is vital that those who manage from the topmost should be completely dedicated to the ERP application. Also, make sure that the necessary steps should be taken to revamp or review the current functions. You should make all the existing functions compatible with the introduced one. ERP really needs a commitment from each employee, executives, and managers. Otherwise, it will be discouraging for regular staff to always talk to their managers about implementation and the staff will leave. The better the interaction, the more likely you will get a fully dedicated team.
Repeated change in ERP'S functions
The opportunities get broader if your company has an ERP. If you include many tasks in an ERP system, you will definitely go for the modification of functions. The repeated change or modification in a difficult system will only lead to confusion. Because such activity only weakens the ERP system. If you modify it a couple of times, the trouble arises in the machine that cannot even make any mandatory alterations in the future.
More than possible servers and workplaces should be reviewed to accommodate the latest system. These new ones should be ordered, acquired, and replaced for swapping the normal working. The existing system will likewise need some changes for its speed and bandwidth etc.
Mobility is another important factor. It is difficult if your employees have to wait in their workplace for a long time to enter and update data. It will end up in a frustrating feeling whether they have to reach the office for work. If ERP slows down the entire organizational performance, then the irritation will be even greater.
Can ERP Integrate Into E-commerce Website?

Countless e-commerce companies use some sort of ERP system to support their business requirements well. Incorporating your ERP with e-commerce can make handling your customer-facing effort much cooler and more consistent through automation and simultaneous updates. If you trade products online, utilizing ERP for retail business can assist you to accomplish your income bases more proficiently and successfully. The advantages of ERP and e-commerce integration are immense when the procedure is accomplished in an accurate way.
E-commerce can surely be positioned as a distinct solution. But manually entering or importing of information from the e-commerce stock into backend schemes takes too much of time. For example, as a wholesaler, you cannot offer an exact outlook of product information, existing inventory, newest pricing, marketing and delivery details and tracking specifications in concurrently. Yet, if these are not delivered timely, it can result in major troubles in stock gaining and associated procedures. It ends up in client frustration and finally loss of income.
Taking all of this data combined and noticeable means that not only you will be capable of attaining the boosted results but also makes you support both the online and offline jobs. An integrated e-commerce solution will aid you to rise online profits and enhance the purchaser self-service.
To shape a sustainable organization in the present business world, you have to use tools that let you update jobs, output, and control data instantaneously. An accurate ERP system can set you on the exact path. ERPs are a great benefit since they can unite the reporting roles of a company and permit consumers to analyse all subdivisions using centralized reports.
Cloud technology, Artificial intelligence, Internet of Things, Big data analytics, etc. with e-commerce are a few of the modern trends that will make a revolution in the ERP economy and let the business to run smooth. The ERP sellers will raise over and over to make their contribution more dominant and reasonable all together. It will kill the issue of updating each separate module with other running systems. The issue will be solved by hiring an ERP.